Tea Cozies
unless, of course, you're British
then, it's Cosies
Whatever your nationality or predisposition, tea is a wonderful respite. In the US, we tend to drop a tea filled paper container into a cup and pour hot water over it. Worse yet, we might even microwave the water. Naughty!
Soothe yourself. Make a lovely pot of tea. First, place clean, fresh water in a kettle and up the heat. Take your teapot to the sink and fill it with the hottest water you can get. Put the lid on and let it sit while the kettle heats. Just as the kettle water boils, empty the teapot and add the appropriate amount of loose leaf tea. Pour the boiling water over the tea. Put the lid on the teapot and cover with a cozy. Let it brew per instructions for that tea type. Enjoy!
SO. . .now you need a cozy. Check out the ones below or make your own. Those below are all original Micki Smith designs and were tons of fun to make.
Climatis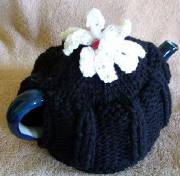 Climatis
An elegant black wool, knit in large ridges and topped with a white cotton climatis. A handblown glass bead centers itself in the flower. Sized for a small, round pot.
$29 includes shipping
Modigliani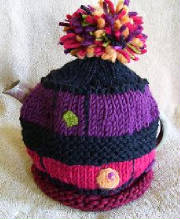 Modigliani
Modern art at its most intriguing and colorful. All wool, one of a kind cozie. Sized for a medium to large round pot.
$32. free shipping
Plumpudding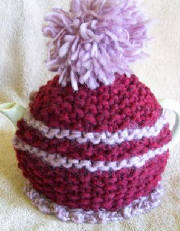 Plum Pudding
This is the very first original tea cozy design by Micki. It now warms her pot every morning while she works her crossword puzzle.
Mary Had a Little Lamb
Mary Had a Little Lamb
This little lamb was knit in black wool then needle felted with raw fleece. The face, legs, and tail were all separately needle felted and then needlefelted onto the lamb. This is an especially large cozie and will decorate a fat, round and tall pot.
Not for Sale