Big bags, little bags, bags for knitting, bags for cosmetics, bags for. . .well, just enjoying. This design phase started as a Christmas project: one unique bag for every woman relative and dearest friends. Whew! Started in September, I'd accumulated five new designs. The sixth was underway when I was knitting waiting for a doctor's appointment. The PA and nurses saw what I was doing and were enthralled. They didn't know about felting so I promised to bring in the finished bag (and its sisters) the following week. "Ooh, you'd better publish a book of these bags," and I was on the way. These photos are a sneak preview of the patterns that are to be published.

| | |
| --- | --- |
| | Here are some of the set of new bags. They range in size and color. All are easy to knit and felt. The density of the bags will hold just about anything you wish to put in them. |
| | |
| --- | --- |
| | All these bags are knit with double strands of a fine wool, then felted in a front loading washing machine. Most took two full cycles, and one took a third. Color makes such a difference in any pattern. There are two bags from the same pattern (one in each photo); can you find them? |
Market Tote Twins




Same bags, fabrics reversed. Heavy duty, great for shopping and saving the cost of paper or plastic. Bags are ___" by ___", have middle snap closure and are unlined. Strap fits easily over shoulder to make carrying easier. Select black background or white background.




$42 each, incl. shipping and handling

Add your content here
Recycling Hit!

The bag base is felt made from recycled soda bottles. The abstract weaving uses lots of bits and pieces from my stash. The technique is portable, easy, and great fun.

This bag and many others were on exhibit at the North Mountain Arts Festival in early June and were at the Shenandoah Valley Fiber Festival.
As with everything electronic, you are outdated by about the time you and your purchase leave the store! So, these funky holders are strictly retro! I've learned my lesson and am not making anymore electronic covers. However, if you are still in the dinosaur stage, feel free to purchase an appropriate bag.
The laptop envelopes below are all made from recycled soda bottles. They are sized to fit 17", 15", and mini-laptops. The two larger sizes include accessory bags and all sell for under $20. (Bags with abstract weaving are appropriately priced higher.)
Laptop Collection in Assorted Colors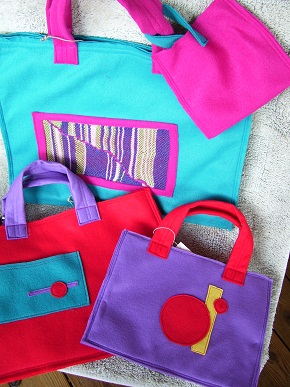 other colors available
Laptop Envelope 17"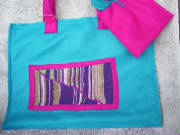 This envelope is embellished with abstract weaving